Wicker Rocking Chairs and Wicker Rockers - Outdoor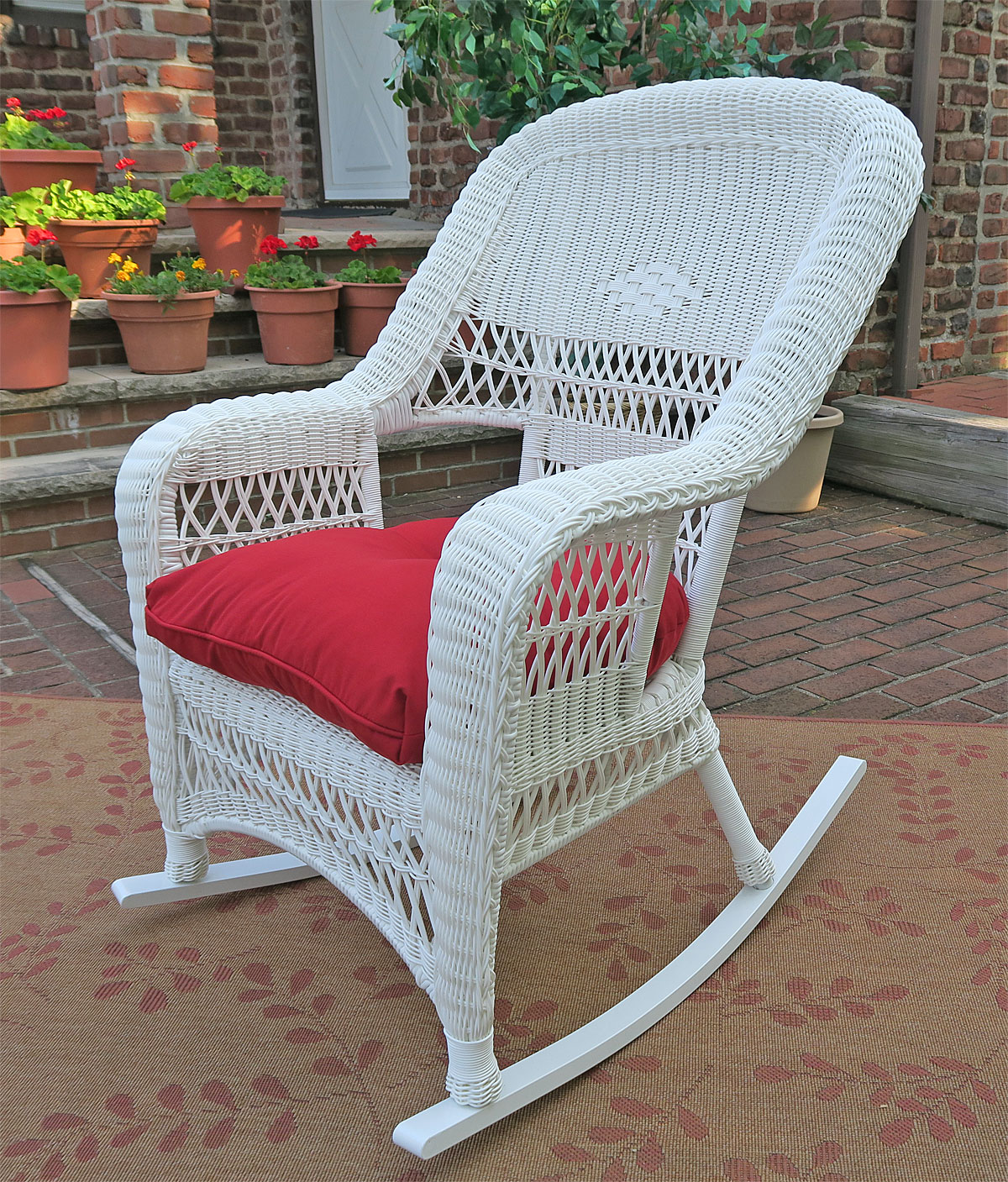 Take a look at our Resin Wicker Rocking Chairs. They are used most every where indoors or outdoors. We have them in lots of colors. White, Black, Antique Brown Golden Honey Driftwood Gray.
Read more about Resin Wicker Furniture.
Quality Frame Construction...Our frames are all made from heavy gauge factory welded aluminum. They are then painted and baked a very similar color to what the synthetic wicker will be. The baking creates a very hard exterior on the paint & makes it very chip resistant. This is a must for better quality products. Our Rocker Runners are also all aluminum.
Our Synthetic Wicker... is HDPE--high density polyethylene. This is a better grade of synthetic wicker. You can google it & read about it. The wicker is hand woven & hand tied over each & every furniture frame. Each rocker is very much the same, but being hand woven (and we have lots of weavers) each one has it`s own personality. That is part of the beauty of wicker products. They are hand made.
Our Cushions..are American Made. We have the same upholsterer for over 25 years.
Our Fabrics...our rockers come with your choice of over 40 different Spun Polyester Fabrics. If you are in a sunny area we offer lots different Sunbrella Fabrics. They cost a little more $ per yard, but are really worth it for sunny areas. Sunbrella dyes each & every thread of fabric in a " dyed solution" process' BEFORE they weave it into yards. This allows for extra fade, mildew & stain resistance. Spun polyester fabrics are very good for indoor or covered outdoor areas. They will fade in sunlight. Their color application process is to put the color on top of the fabric. It is a called a "silk screening process". It is applied to the top side of the fabric.
There is NO ASSEMBLEY REQUIRED--you only have to pop the aluminum rocker runners onto the legs and put one screw up through the runner and into each leg.
Free Shipping..our prices include CURBSIDE Delivery to Most Locations in the 48 states. Our deliveries are made in an 18 wheeler truck. that must be able to drive onto & away from your delivery address.